Back
Perth, BWA Panel Q&A: Disruption in Professional Services
Date: 24 October 2019 4:15 PM – 6:15 PM
Location: Central Park Conference Centre, 152 – 158 St Georges Tce, Perth, 6000
Join Business Women Australia members and guests for a Panel Q&A with leading professional women as we delve into the disruption facing professional services. Moderated by Belinda Von Knoll, this is the perfect opportunity to hear how prominent professional women across different sectors; architecture, HR and legal, are experiencing disruption. They will share their views and insights on innovating, surviving and thriving through the challenges that go with the rapid changes we are experiencing.
Refreshments and canapes will be provided by the generous team at Shadforth Financial Group.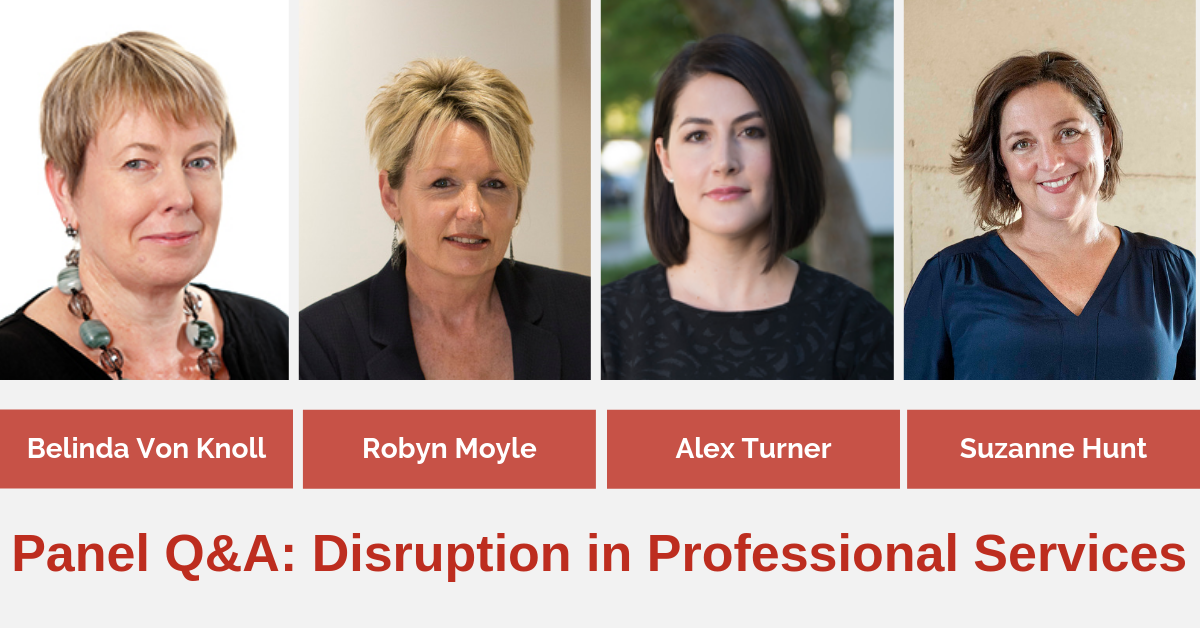 ABOUT  OUR MODERATOR
Belinda Von Knoll is a Private Client Adviser in the Perth office for the Shadforth Financial Group. Her goal is to help her clients achieve peace of mind by ensuring they have a plan in place to reach their financial and personal goals. Belinda holds a BA in Comparative Literature, a Graduate Diploma in Financial Planning and is a Specialist SMSF Advisor with the Self-Managed Superannuation Fund Association. She is also the Secretary of the WA Branch of the Self-Managed Superannuation Fund Association. Belinda has worked in the financial services industry since 1990 and specialises in self managed superannuation funds
OUR IMPRESSIVE PANEL
ROBYN MOYLE
Robyn is a Co-Founder of The H Factor, an online people management system.  The H Factor was born from a belief that everyone has the right to create the extraordinary. Robyn has over 25 years' experience in corporate HR Management, including HR Manager for Gull Petroleum in Australia & New Zealand.  She has delivered training for Business Foundations and SBDC, and was a speaker at the AHRI Perth Summit. She holds a Post Grad Diploma in Human Resources from Deakin Univesity.
ALEX TURNER
Alex is an experienced solicitor with a focus on dispute resolution, and a strong foundation in intellectual property law. She has been a valuable member of HHG's Commercial litigation for nearly four years and has over 7 years' of diverse legal experience assisting clients with intellectual property, consumer law, workplace safety, contested estates, defamation and commercial dispute resolution requirements.  She holders a Graduate Diploma of Legal Practice (College of Law), Bachelor of Laws and Bachelor of Arts (Politics and International Studies) – Murdoch University.
SUZANNE HUNT B.Arch. (Hons) FRAIA RIBA,
Suzie established Suzanne Hunt Architect, a boutique architectural and interior design practice in 2004 to specialise in residential, heritage and hospitality projects in Western Australia. As an award-winning registered architect, Suzie believes in a personal approach to design ensuring her clients feel part of the creative process of their project. She is renowned for her down to earth approach and listens carefully to nurture and support her clients dreams. "Beautiful sustainable architecture enriches our lives physically, psychologically, spiritually and emotionally, while leaving a legacy for generations to come," she says. "It's important that we get it right, together." Suzie is a Immediate Past President of the Australian Institute of Architects WA Chapter, a Chartered Architect of the Royal Institute of British Architects and sits on various boards.
Read more about Suzie's qualifications and approach to designing homes here.