Back
Launceston BWA Panel Q&A: Negotiating for Success
Date: 23 October 2019 5:00 PM – 7:30 PM
Location: Level 1, 112 George Street, Launceston, Tasmania, 7250, Australia
Join Business Women Australia members and guests for a panel Q&A with accomplished female leaders; Heather Hicks, Partner at  KPMG, Shona Croucher, Director of Finance & People (Bellamy's Organic), and Jessica Lyons, CEO (Health Care Insurance).
These remarkable women have experiences in life and business that has set them apart, so don't miss your opportunity to join us and tap into their wisdom as they share their stories and tips on negotiating positive outcomes. Hear how these leading women have navigated their diverse industries and discover the keys they have used to unlock their ability to reach positive negotiated outcomes in challenging environments.
Canapés and refreshments will be served by our generous hosts at Shadforth Financial Group.
OUR MODERATOR
Jackie Kirkwood
 – Jackie is a Private Client Adviser for the 
Shadforth Financial Group
 in Tasmania and based in Hobart. She holds an Advanced Diploma in Financial Services (Financial Planning) as well as the internationally recognised Certified Financial Planner® practitioner designation, the industry's highest accreditation. She is a member of the Financial Planning Association and Business Women Australia.  Jackie has over 24 years' experience in both the Australian and South African financial services industries. She primarily works with busy professionals and business owners. Jackie is also a tutor and lecturer in financial planning at the University of Tasmania.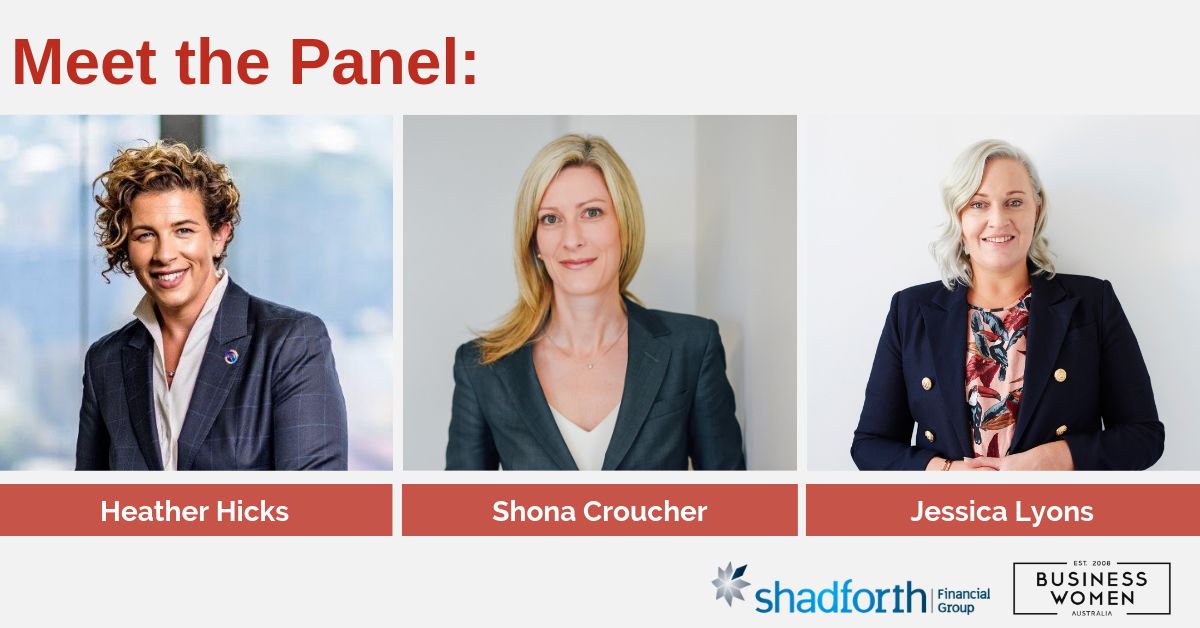 Heather Hicks
Heather is a Partner with KPMG, leading the Audit, Assurance and Risk Consulting business in Tasmania.  Her client base includes a range of small, medium and large organisations around the state and sees her managing multiple contracts, clients, teams and outcomes.  Heather interacts regularly with the C-Suite members of her clients positioning herself as a trusted advisor.  Whether it is negotiating with clients or negotiating her way up the career ladder, Heather has experienced highs and lows.  She is still yet to master negotiation with children and welcomes any input or advice on the night!
Shona Croucher
Shona is the Director of Finance and People at Bellamy's Organic – an Australian publicly listed company established in Tasmania dedicated to creating quality, nutritionally balanced and delicious organic baby food and formula. Shona was appointed as Finance Director in January 2017, and had previously held the position of Chief Financial Officer. Prior to joining Bellamy's in 2014 Shona enjoyed a 16 year career at KPMG as a Director specialising in business advisory, taxation, business restructuring and business valuation. Shona holds a Master of Applied Finance (Kaplan Professional), is a Fellow of the Taxation Institute of Australia (TIA), has a Graduate Diploma of Financial Planning (Securities Institute of Australia), and is a Member of the Institute of Chartered Accountants in Australia (ICAA). Shona holds a Bachelor of Commerce with majors in Accounting & Human Resource Management.
Jessica Lyons
Jessica is the CEO of Health Care Insurance (HCI), a not-for-profit private health insurer operating since 1938. As a motivated, professional with extensive experience in financial services, Jess possesses deep knowledge of bank and financial products, and the regulatory environment of the industry. She has successfully lead large teams, achieved impressive business goals and established high performance cultures by drawing on interpersonal and negotiation skills.Her collaborative style as a leader helps her focus on delivering a clear vision to drive business growth. Jess is a passionate advocate for the advancement and of women and has successfully lead multiple professional networks. She is a member of the Australian Institute of Company Directors and graduate of Griffith University.
About Business Women Australia
BWA brings together business women from all sectors, industries and states;
business owners and entrepreneurs
executives and managers
professionals
women on boards
emerging leaders
women who desire growth and high level connections
Business Women Australia is focused on key areas of development;
Leadership
Business Improvement
Personal & Professional Growth
Connections & Friendship