Members Focus Group – Perth WA
Date: 12 February 2019 8:00 AM – 10:00 AM
Location: Boutique Advisers 1 Outridge Crescent #3 Subiaco, WA 6008
MEMBERS FREE and GUESTS welcome to register – we'd love you to consider membership so come and experience our Q & A Focus Group.
Sharing business ideas and challenges with a supportive, experienced group of business women who are members of Business Women Australia.
This Focus Group is a great way to connect in a small group environment with BWA.
Premium Member Katie McDonald will be our host for the session and facilitate an open-discussion where you can share your challenges, ideas, suggestions and opportunities.
Each member will be invited to discuss what is happening in their business world and be part of a mastermind collective.
Your BWA community is an excellent source of new perspectives and ideas to help you in your role whether you are an executive, business owner, entrepreneur or professional. Exchanging information on challenges, experiences and goals is a key benefit of being a member because it allows you to gain new insights and tap into the expertise of others. Similarly, offering your advice and helpful ideas is an excellent way to build your reputation as an innovative thinker and to share your knowledge.
Being known and understood is essential in business. Regularly attending BWA's professional and social events will help build your reputation and connect you.
Expanding your contacts can open doors to new opportunities for business, career advancement, personal growth and new knowledge. Active involvement in BWA helps to keep you top of mind when opportunities arise and increases introductions to potentially relevant people and referrals.
Join us for this intimate opportunity to exchange best practice knowledge, learn about the techniques of your peers and stay abreast of the latest business developments. A wide network of informed, interconnected contacts means broader access to valuable information.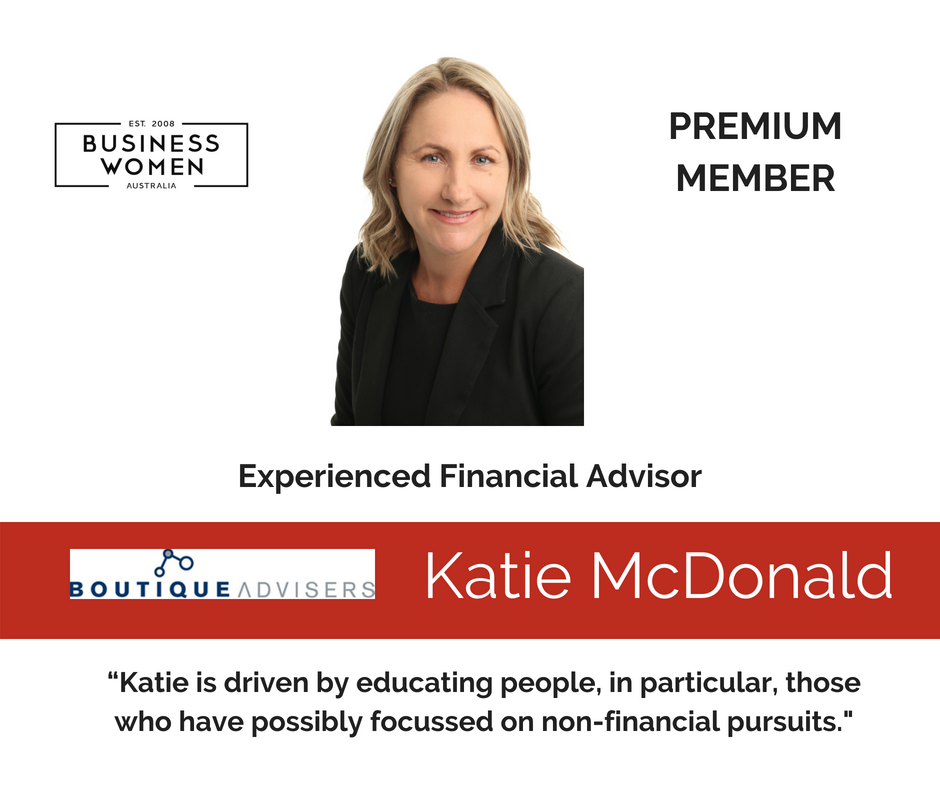 Katie McDonald AFP®, BBus (Fin), ADFS (FP) is an experienced Financial Adviser with Boutique Advisers. She has over 20 years of personal investment experience, 5 years as a business owner working specifically with women and financial literacy, in addition to working as a business adviser for The Chamber of Commerce.
This Member ONLY Focus Group brings together experience and knowledge.
If you are not already a member of BWA we invite you to join today and book a seat at the table. We welcome new members.
Chatham house rules apply so if you have a challenge, problem or opportunity that you would like this peer-to-peer collective to discuss it will be kept private and not discussed with anyone outside the room.
Business Women Australia is focused on four areas of development;
Leadership
Business Improvement
Personal Growth
Influence and Profile