Back
Focus Group – Perth WA
Date: 24 September 2019 9:30 AM – 11:30 AM
Location: Tart's Cafe, 212 Lake St, Perth, 6006
Business Women Australia Focus Group – MEMBERS Q&A Mastermind – facilitated and hosted by Premium Member, Susan Lam – Mi Casa Property Boutique.
Share career and business ideas and challenges with supportive, experienced business women.
This Focus Group is a great way to connect in a small group environment with your fellow members of the BWA community. Susan Lam, Director of Mi Casa Property Boutique will be our host for the session and facilitate an open-discussion where you can share your challenges, ideas and opportunities.
Each participant will be invited to discuss what is happening in their business world and be part of a mastermind collective. Chatham House rules apply – what is said in the boardroom stays in the boardroom.
The BWA community is an excellent source of new perspectives and ideas to help you in your role whether you are an executive, business owner, entrepreneur or professional. Exchanging information on challenges, experiences and goals is a key benefit of being involved with this mastermind group because it allows you to gain new insights and tap into the expertise of others. Similarly, offering your advice and helpful ideas is an excellent way to build your reputation as an innovative thinker and to share your knowledge.
Being known and understood is essential in business. Regularly attending BWA's professional and social events will help to get you known and can help to build your reputation as being knowledgeable, reliable and supportive by offering useful information or tips to people who need it.
Expanding your contacts can open doors to new opportunities for business, career advancement, personal growth and new knowledge. Active involvement helps keep you top of mind when opportunities arise and increases your likelihood of receiving introductions to potentially relevant people and referrals.
Join us for this intimate opportunity to exchange best practice knowledge, learn about the techniques of your peers and stay abreast of the latest business developments. A wide network of informed, interconnected contacts means broader access to valuable information.
Click on the link for more about our facilitator, BWA Premium Member Susan Lam, Director of Mi Casa Property Boutique.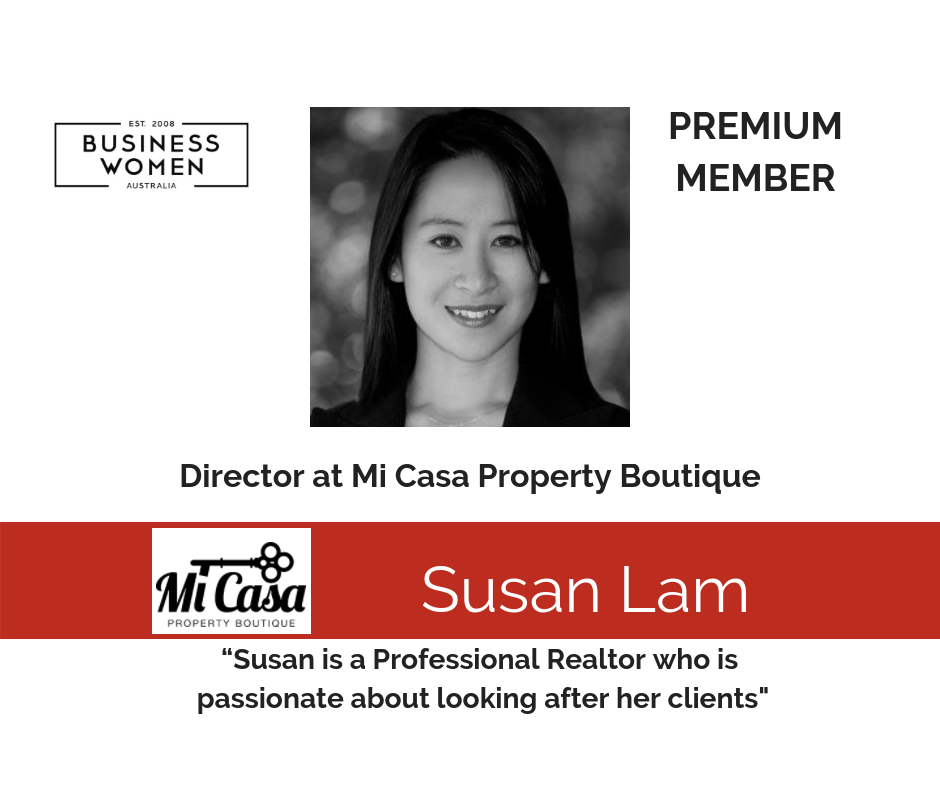 This focus group is designed for members, however for those considering joining BWA we invite you to register as a guest and experience our community. We welcome new members.
Business Women Australia is focused on four areas of development;
Leadership

Business Improvement

Personal Growth

Influence and Profile