Back
Brisbane, Panel Q&A: Disruption in Professional Services
Date: 5 December 2019 4:00 PM – 7:00 PM
Location: Shadforth Financial Group, Level 13/240 Queen St, Brisbane City QLD, 4000
Join Business Women Australia members and guests in the Shadforth Financial Group Boardroom for our SPECIAL END OF YEAR EVENT.
We will kick off with an insightful panel Q&A delving into the disruption in professional services followed by our EOY CELEBRATION.
Panel facilitator, Rhiannan Smit (Shadforth Financial Group) will be joined by three remarkable female leaders representing different perspectives of professional services – Lyn Hawkins (Director of Business Women Australia), Tuskeen Jacobs (Partner at Rostron Carlyle Lawyers), and Sonia La Penna (Director of HR Synergy).
Discover how these accomplished leaders have navigated disruption in their individual industries – management consulting and marketing, legal and HR. We will also have a fun look at how these amazing women cope with "the silly season."
Stay on for a drink to celebrate the end of the year with members and guests. A big thanks to our hosts and national sponsors, the generous team at Shadforth Financial Group, for the refreshments and canapes.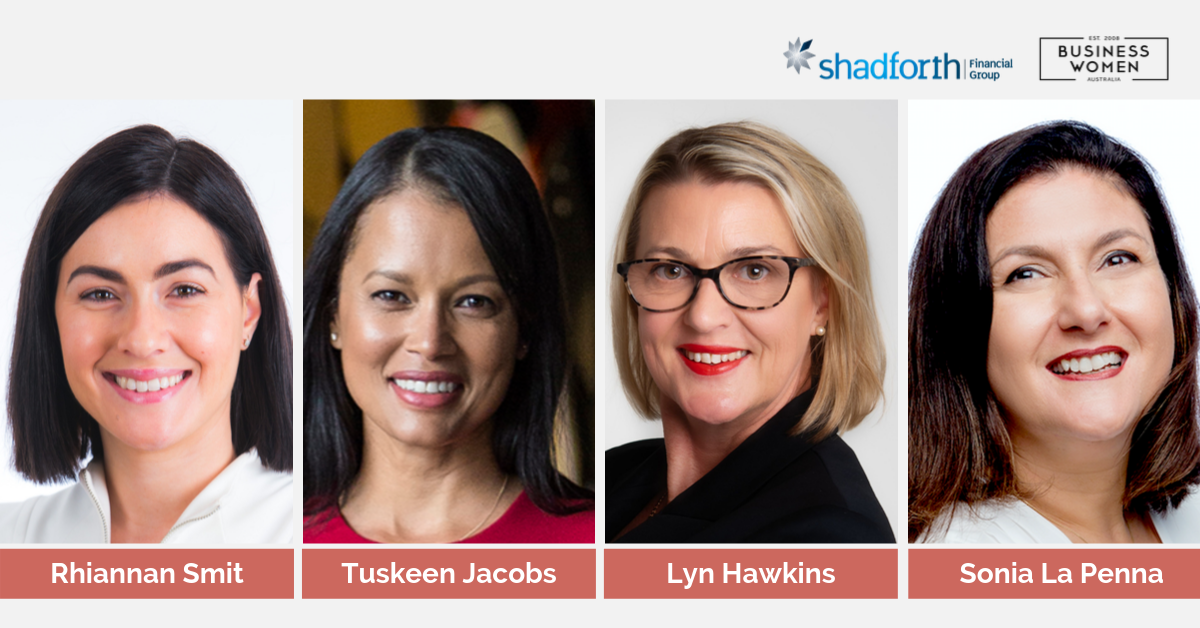 About our facilitator: Rhiannan Smit
Rhiannan is a Private Client Adviser at the Shadforth Financial Group Brisbane office. She holds a Bachelor of Business, majoring in Financial Planning and Accounting from the University of the Sunshine Coast and is currently completing her Certified Financial
Planner (CFP) designation. She is also a member of the Financial Planning Association ofAustralia (FPA) and Premium member of Business Women Australia. Rhiannan began her career with Kilkenny Rose & Associates, a boutique wealth management
firm that became part of the merger to create Shadforth Financial Group. Working in the industry for over 11 years, Rhiannan is renowned for her focus on client's goals and objectives, drawing on her specialised knowledge to develop a tailored financial plan. She is very passionate about educating her clients and empowering them to make smarter, more informed financial decisions.
OUR PANEL:
About Lyn Hawkins:
Lyn Hawkins is the National Director of Business Women Australia. Her generous spirit, energy and passion for business is infectious. Lyn has a life time of experience helping professional firms grow and supporting technical specialists and trusted advisers in their quest for success. She grew up with a family business and later enjoyed an impressive corporate career and also established her own successful ventures. Lyn's business experience includes senior executive roles with Telstra, KPMG, HHG Legal Group, Diverse IT, Broadreach Communications and HLB Mann Judd. In addition to her role as a National Director of BWA, Lyn has a successful consulting practice.  She has been on boards including the Stirling Business Enterprise Centre, WA Business Assist and Tura New Music and has been a mentor for undergrad students with the UWA Career Mentor Link since 2013.  Lyn holds a Bachelor of Commerce (Hons) in Strategic Marketing and Management from the University of Western Australia.
About Tuskeen Jacobs:
Tuskeen Jacobs is a Partner at Rostron Carlyle Rojas Lawyers, specialising in Family Law, which she has practised exclusively since 2001. Tuskeen holds an exemplary reputation in assisting clients through the difficult process of separation and her pragmatic approach to resolving complex marital and de facto property settlements is well recognised among her peers. Tuskeen's expertise also includes financial agreements, children's issues, divorce, spousal maintenance and child support. Tuskeen is an Accredited Family Law Specialist and has been recognised as a Recommended Family Lawyer in 2017, Doyle's Guide to the Australian Legal Profession.
About Sonia La Penna:
Sonia La Penna is the Director of HR Synergy Consulting. With over 18 years HR industry experience across service sectors, Sonia provides HR executive services to organisations, partnering with the CEO and executive team, to lead and support the people strategies needed.  Sonia has a focus on mergers and acquisitions, business and department restructure, building organisational culture as well as leadership performance/capability and team performance dynamics.  She is an innovative and contemporary HR executive, and engages stakeholders at all levels of an organisation to design, plan and deliver contemporary 'tailored made' HR business solutions.  Sonia is an experienced facilitator of conferences, leadership & culture programs, and strategy planning workshops. She has worked for medium to large organisations including Credit Union Australia, Serco Sodexo Defence Services, Super Retail Group and Brazin Ltd.
About Business Women Australia
BWA brings together business women from all sectors, industries and states;
business owners and entrepreneurs
executives and managers
professionals
women on boards
emerging leaders
women who desire growth and high level connections
Business Women Australia is focused on key areas of development;
Leadership
Business Improvement
Personal & Professional Growth
Connections & Friendship